Some time ago I fight against a mobile site because of the full graphical design that the customer approved. No one of the designers was aware of the mobile complexity: different screen sizes, high DPI screens, rotation and so one. Last but not least the .mobi problem with Apple devices.
Today a colleague sent me some slides of a seminar just about the mobile design and the performance problems a good design can address. For example, many desktop designed sites has been adapted to mobile device just hiding some content (the sidebar, the footer and so on), but that forces a small device to load a lot of usefulness data, build an incredible complex DOM while a simple one is required for the final rendering. More, big JavaScript files and images even not displayed are loaded but not used.
The so called waterfall of resources loaded by a mobile device is most of the time the same of a desktop browser… but the two have different connection capacity and memory and CPU power.
Can the design address some of these performance issues? How? And what about the Responsive Designer?
Take the time to look at this presentation: more than useful!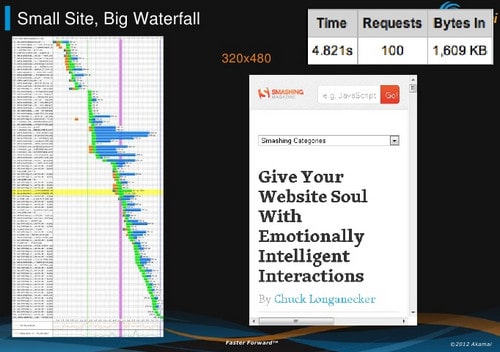 My excuses for my bad english but it's the only way I have to communicate with you. Would you suggest a correction? Leave a comment, thank you!