Comment Plus is a WordPress plugin that enhances the blog comment system creating a better experience for your readers: image upload, comment subscription, welcome email and many more.
Version 1.3.0 has a cool new feature: the watermark. A but of history that leads me to introduce this feature.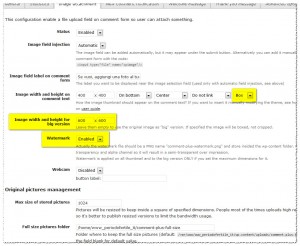 A site of a customer was full of personal pictures from reader, uploading them via comment image attachments. Readers was aware that those pictures were public, but not that malicious peoples could be able to download them and reuse them on other sites.
Nothing of really illegal or offensive has been happened, but naturally it hurts to have a personal photos published elsewhere without permission.
Hence I introduced the watermark feature. Every picture uploaded by users can be protected with a watermark. More intrusive is it less the chances that someone will use it.
Since I was in a hurry for this feature, even if it is perfectly working it require a bit of manual configuration: everything is explained on Comment Plus official page.
Another minor improvement is the ability to select cropping or not for pictures displayed on text of comments.
Remember the nice feature of comment images gallery you can include inside posts.
Comment Plus is still at 9.95$.
Some demo pages can be found here.