This year I anticipated a little my "donation of donations" I received on second half of 2012. From July to December I collected 250 euro (about 340 dollars) that I donated to Medecins Sans Frontieres.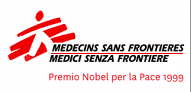 We all know it's a little contribution against all those terrible conditions we can meet on poor countries, specially for children who should have an opportunity for a better future, but even the ocean is made of drops.
I want to say Merry Christimas to everyone, with my best wishes for an happy 2013 remembering that happiness is never a personal thing!
Stefano Lissa.