File Commerce WordPress plugin make easy to sell digital contents (files) directly from your WordPress blog.
Do you write e-books? Do you make software? Videos? Music?
And are you promoting them inside your WordPress blog? With File Commerce plugin you can take the next step and start to sell them directly.
Why File Commerce should be different from other shop cart plugins or software?
Because it is made only to sell files and this can be pretty different that what happens in an online shop.
First, File Commerce is simple to configure, the hardest part is probably deal with payment gateways (but there is a user guide for that).
Second, digital content is suitable to be updated, it's not a t-shirt! File Commerce is made with that in mind: when you sell a file, you can choose how many days (typically one month or one year) the file should be available to customers, starting from the purchase date.
When you need to release an update just need just to upload the new version… done! And with Pro version you can send a newsletter to every active customer who purchased that file.
It's really different to say: "buy that software" and "buy that software and get one year of updates for free".
File Commerce is like a fusion between e-commerce and membership.
Read the User Guide
Worried about configuration of the plugin or the payment gateways? Be happy: here you can download our user guide, a manual that we keep up to date to reflect the user's common question and step by step instructions to configure everything. And if something is missing or not clear, just drop us a line at stefano@satollo.net.
[download id="49″]
About the authors
File Commerce Pro was made by me, Stefano, and my colleague Luca a senior PHP developer. Two people, double support (and doubled plugin evolution speed).
Free and Pro versions
File Commerce comes in two version: the free one, available on WordPress Plugin directory and a Pro version available on members.satollo.net. Here a comparison table:
| | | |
| --- | --- | --- |
| Feature | Free version | Pro version |
| Max number of sellable files | 1 | Unlimited |
| Total control on messages | YES | YES |
| Multi contract* | NO | YES |
| | | |
| PayPal integration | YES | YES |
| ClickBank integration | NO | YES |
| Plimus integrations |  NO |  YES |
| | | |
| Support form | NO | YES |
| | | |
| Newsletter** | NO | YES |
| Mailer plugin*** (10$ value) | NO | YES |
| Charts | NO | YES |
| Auto account creation | NO | YES |
* Means a customer can buy a file more than on time and have more than one contract active: it's useful for consultants that want to buy the file for many clients (usually for software)
** A mailing system to write to all customers, selecting them by file bought and contract status (expired, not expired, …). A must have to send notification of new version of a file or to do up selling for new products.
*** Included with File Commerce Pro, the mailer plug-in can be useful when you mass mail your customer if that activity can get over the provider mailing limit.
File Commerce Pro working
Want to see File Commerce Pro working? I'm using it to sell it (and Newsletter Pro…) on members.satollo.net. This is the best warranty I can provide!
Ready to buy? Click here, this is a buy now link generated by File Commerce Pro!
Inside File Commerce Pro
Here some screen shots to better see how File Commerce Pro appears on administrative panels.
The file management section list all files you are selling (a file can be on sale, disabled, for free download or downloadable only to registered users). For each file you can decide to sell it on ClickBank or PayPal or both, you have a descriptive price (the real price must be set on payment gateways), a title, a description.
File are saved with a ciphered name, so cannot be downloaded directly.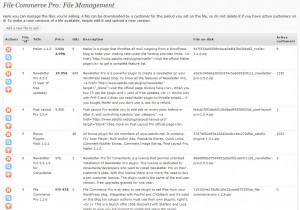 A single file configuration panel looks like the screen shot below: each field is commented to guide you while setting the parameters.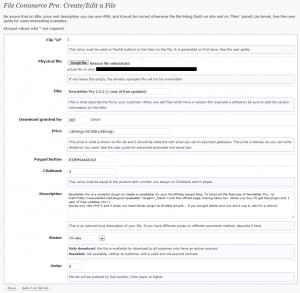 The contract management panel let you to search for customer and see their active contracts (a customer can buy more than one file and more times the same file).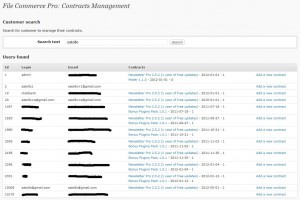 and do not forget the embedded user guide (that we are migrating to a PDF to have better layout and readability)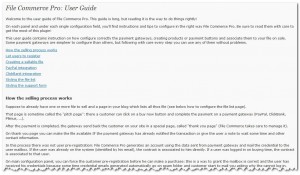 Want to mail to every customer? There is a mailing feature to compose simple textual email and choose who must receive the communication between your customers.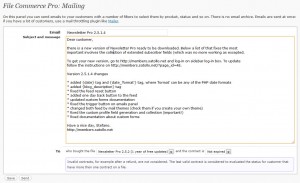 Some charts can be useful too: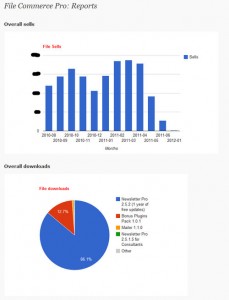 Development plan
We have great expectations on this plugin so we already have a ling list of new features that, for sure, will be implemented. More, we are ready to listen to your requests because the customers are the main source of innovative ideas.