Other Posts is a smart WordPress plugin able to show related posts under the post visitors are reading and let you to freely design the list.
Other Posts lets you to design the look of related posts list. Like creating a simple theme, you have some tags (link, title, image, …) and can write the HTML to compose the related posts list. A special tag called "image" extract the first image in the post.
For an easy startup, some themes are already available with a special responsive horizontal layout. Here an example: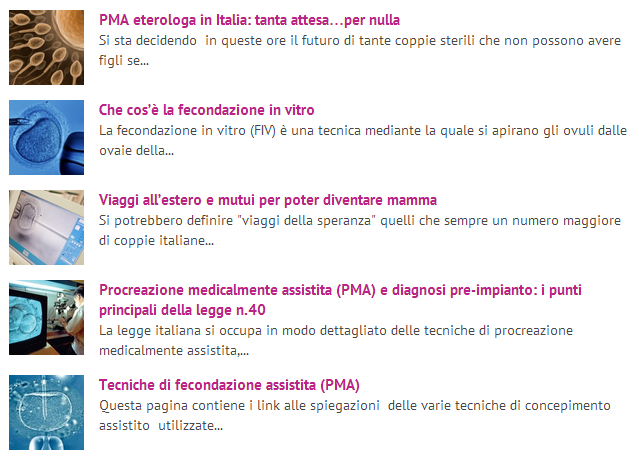 Other Posts uses a full text index to extract related post, it is not based on tags or categories. So it works perfectly even if you haven't carefully add tags to posts from the start of your blogging activity. The is an important difference with other related post feature (specially the ones embedded in themes).
The related post list can be added automatically under the post content or you can call a PHP function to inject it where you prefere, modifying directly the theme.
Adding it with Header and Footer
Header and Footer is a plugin that lets to inject any kind of code before and after the post content. If you want full control on where the related posts are added, you can use the Header and Footer plugin to inject whatever you want and even the related post list with a line of PHP code (Header and Footer accepts PHP code!).
<?php if (function_exists('oposts_show')) oposts_show(); ?>
Download and Support
Other Posts is available, for free, on WordPress Plugin Repository, here. To get support the use of Satollo.net is required, see the Other Posts dedicated forum.
Usage of Other Posts modifying the theme
To add the related post list, usually you have to open the single.php of your current theme and add the PHP code:
<?php if (function_exists('oposts_show')) oposts_show(); ?>
or can use Post Layout and add such line of code in the single post bottom code injection configuration. Below a screenshot (click to enlarge) of a blog I manage (www.maguardaunpo.it) with the Other Posts call configured with Post Layout Pro.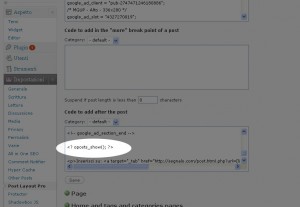 Other Posts comes with a predefined layout which is a table suitable for most blog design but you can modify it as you like.
The layout is composed by an header block, a footer block and a body block. The body block will be repeated for the number of related posts found (limited by max posts values).
Tags need to be used within the body block and will be replaced with related post data (such as title, permalink, excerpt, image and so on). Available tags are documented below the body block textarea in the configuration panel (click to enlarge).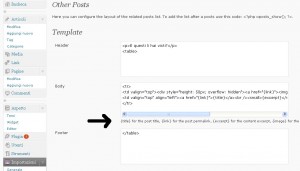 And now the result of related posts in a real blog.