Premium Contents is a WordPress plugin made to lock specified blog posts asking the reader to do something to access them. Finally it's a simple membership plugin, but so easy to configure that anyone should be able to create it's own premium contents blog!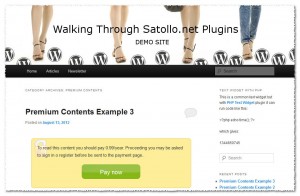 You can ask the reader to make one of three actions (that correspond to one of three access level):
accept terms and conditions pressing a button before to see the reserved content (example, you declare to not be an insane person)
sign up the blog (reserved contents will be unlocked only to logged in users)
pay via PayPal (reserved contents will be available to registered and paid users with a unexpired subscription)
A new 1bis level let the reader to unlock a content pressing a Facebook like button, but see below for more and important information.
The "pay" option can be set with a price and a duration in days: after that time the subscription expires and the user will return to act like a normal reader.
Premium Contents is a very simple plugin, do not except a full features membership solution, but it is free and incredibly easy to configure.
You can read other articles on Premium Contents or take a look to the forum. Simple examples can be found on demo.satollo.net.
Locked notice on posts
Locked posts, if the current reader have no access to them, are replaced with a message box and a call to action (button). The box can be stylized from the configuration panel with a set of options (border style, background and a message that accept HTML input).
You can modify the appearance of this notice within the configuration panel of Premium Contents. I know, you hate CSS and HTML so I made a simple live preview panel with some layout controls (border, colors, and so on). Of course your theme may have some styles which conflict with Premium Contents box styles…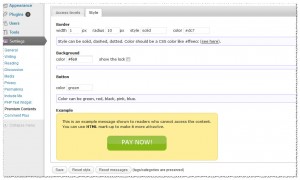 To pay he must be registered
To read the level 3 premium contents the reader must first register to the blog and then pay. There is no an auto account provisioning. This has to be stated in the message shown on contents which are marked as level 3 premium content.
When a non logged in user clicks on the "pay" button, he's sent to the login page. If he logs in he is then redirect to PayPal. If he signs up for the first time, he must follow the classic "check the mailbox for your credentials".
Protection of files and images
File linked on locked post content or images present on post content and added with WordPress (in single or gallery format) are NOT protected: if someone knows the direct link he can get them (while he cannot read the post content).
The Facebook like button to unlock content
To use the like button to unlock content you must to be aware of:
it may not be legal
when a reader press "like" it works exactly how works the level 1 but if the unlocking cookie is deleted from the user browser, the like is still there, so the user must unlike and relike the content
Download
Download Premium Contents from here or search "premium contents" on your blog "add new plugin" panel.
Caches
If you use a cache system, it's not good. Disable it since it can cache an make public the reserved content.