You may want to have a look to Comment Plus as well. Comment Plus is an evolution of Comment Notifier that includes Comment Image.

Comment Notifier leta readers to subscribe a post comment thread and receive an email each time other users add comments.
Keep discussions  on fire!
Comment Notifier is a very simple plugin to install and configure. Visitors will have a "subscribe" checkbox to be notified when new comments are added on a specific post. Hence, subscription is "post based": users subscribed won't notified of each comment!
Comment Notifier create his own table on database and manage the subscriptions in it.
Email sent can be freely composed in the configuration panel with simple tag to customize each email: subscriber name, post title, post permalink, author name, comment excerpt.
And if you have the extras installed, you can do much more!
The subscription checkbox can be added automatically by Comment Notifier. If you need a better control on the theme layout, you can add the checkbox by hand. The configuration panel has the instructions you need.
I'm using this plugin in all my blogs!
Extras
Comment Notifier can be greatly improved with some of extra features:
insertion of last blog post links
insertion of configurable random ads of affiliate link
insertion of related post list
The picture below shows one of my notification emails: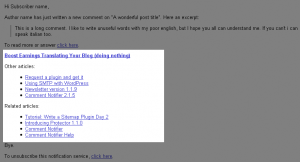 As you can see it contains a list of posts (may be too much, but it's just an example to show how it works).
When the extras are installed you can use tags like "last_posts", "related_posts" and "ads" in the email body. Those tags are configurabile in the admin panel, as viewable in the picture below.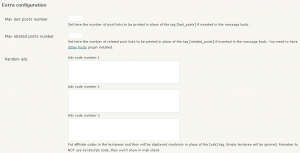 Where is the advantage of those extras? Notifications are emails that users usually just scan to see if the comment is of interest and then delete them. Adding useful content to those emails can bring you more traffic or help to sell a little more via affiliate links.
Extra features are sold for a small price: 4.99 $. Read my general license and then you can buy it here (temporary not available, I'm sorry).
You have to install Comment Notifier before use the extra features and Other Posts (which is included).
Support
Remember to ask you questions here.
Download
Comment Notifier is available on WordPress Plugin Directory:
and can be update directly from your plugins panel.
Versions
Specific and more verbose release notes can be found in posts under the tag "comment notifier versions".
FAQ
Rememeber to ask you questions here.
Automatic subscription checkbox insertion seems not to work.
Your theme needs to call a specific WordPress action ("comment_form") just after the comment form. The comment form usually is into the "comments.php" file of your theme. If this file is missing, WordPress uses the "comments.php" of the default theme. If this call is missing, you need to add it or to insert the checkbox by hand.